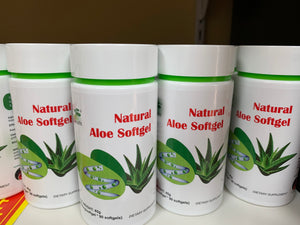 Natural Aloe 90 Soft gel
Aloe is the crucial part of any weight loss and fitness program.
Aloe detoxifies the digestion system. This detoxification effect has special effect on constipation and hemorrhoids, especially for senile constipation. It has the functions of strengthening stomach and relieving diarrhea. Aloe also helps heal digestive disorders like ulcers, belching, nausea, vomiting. Aloe dissolves mucous in the intestines. Aloe enhances the presence of friendly bacteria.
Aloe  assists in the rejuvenation of joints, skin, brain, nervous system and liver. Helps to dissolve mucous in the intestines.
Aloe provides one of the best plant sources of vitamin B12. 

Aloe is an adaptogen. Aloe contains vitamins A, C, E, the minerals sulfur, calcium, magnesium, zinc, selenium and chromium as well as antioxidants, fiber, amino acids, enzymes, sterols, most importantly, polysaccharides. 
Caution: 
Due to its strong effects in cleansing the liver, pregnant women, breast feeding women and young children should not take aloe internally.